Latest News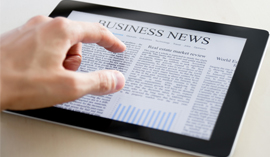 Upcoming Conferences 
Women in Consumer Finance – December 2-4th- Savannah, GA
Top Collector – Pat M. December 2020
Manager's Choice -Joe R.- December  2020
MACA Election Results- 2019
Please join us in welcoming Kyle Shanahan (Eastern Revenue) and Dan Venditti (NCB Management Services) as our two, newly elected MACA board members serving a one-year term through the September 2020 Annual Meeting (date to be announced).
The ACA member company's donations to The Children's Hospital of Philadelphia will help provide gifts to young patients during the holiday season.
Employees at Eastern Revenue, Inc. are holding a toy drive at their office in Wayne, Pa. to support a local boy and other families at The Children's Hospital of Philadelphia starting Nov. 14.
Donations through the "Snowflake Station Toy Drive," are in the name of Holton Weingrad, who suffered a traumatic brain injury last year.
Eastern Revenue, Inc.'s Business System Specialist Dianne Schmitt is a friend of Holton's aunt, who told her about the opportunity to support their family and others in need this holiday season.
Schmitt passed on the information to the company's president Kyle Shanahan and he was immediately on board to help.
"Eastern Revenue is always looking to give back to the community in any way we can," Shanahan said. "Our primary focus is on children and veterans. When we heard of Holton's heartbreaking story and saw what his family is trying to accomplish by providing toys to children in local hospitals we knew we just had to get involved and help them accomplish this goal."
Eastern Revenue, Inc., will take the toy and gift card donations it collects to The Children's Hospital of Philadelphia, where parents can select gifts for their children at the hospital.
The toy drive at Eastern Revenue, Inc., ends Dec. 15, 2015 and donations can also be made at The Children's Hospital of Philadelphia.
2013 – 2019 Best Places to Work in Collections
Eastern Revenue, Inc. was recently ranked number one in the Best Places to Work in Collections small company category for the sixth year in a row. This program was created by insideARM.com and Best Companies Group.
Companies from across the U.S. entered the two-part survey process to determine the Best Places to Work in Collections. The first part consisted of evaluating each nominated company's workplace policies, practices, philosophy, systems and demographics. The second part consisted of an employee survey to measure the employee experience. The combined scores determined the top companies and the final ranking. Best Companies Group managed the overall registration, survey and analysis process and determined the final rankings.
This survey and award program was designed to identify, recognize and honor the best places of employment in the collections
industry, benefiting the nation's economy, its workforce and businesses.
"Congratulations my Eastern Revenue friends on being a great place to work! I'm not surprised because we thoroughly enjoy working with all of you!-"Linda M. Fultz -The Pennsylvania State University, World Campus & Continuing Education
"This news is no surprise to me.  I have always had faith in this company.  Great job, great people, happy client.  Keep up the great work."-Christine Genecki -Richard Stockton College
"Congratulations Larry and your group at Eastern Revenue for that great recognition. You all deserve it"- Juana Lajara- Molloy College
Going Green
In an effort to promote environmental and economic health for all, Eastern Revenue, Inc., has launched the "Go Green Campaign". We will be able to provide you with invoices and reports via email. In addition, we can send an ACH to your bank, provided your invoice reflects payment due at no cost to you. If you opt-in please email placements@easternrevenue.com.
More News